Love your Trigger
TriggerTech offers the only triggers to operate without sliding friction. The departure from sliding friction enable us to engineer the ideal release characteristics into all of our triggers.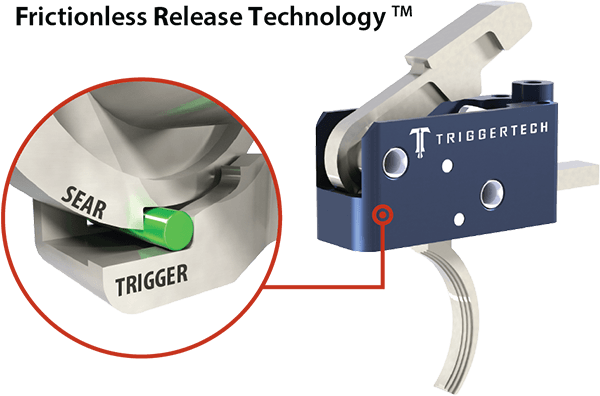 Zero-creep

Our FRT™ triggers offer an exceptionally crisp break (like a glass rod) and we guarantee your accuracy and precision will improve.

Overtravel

Our patented TKR Technology™ minimizes overtravel so your sight picture experiences less disruption and sets you up for the perfect reset.

Reset

Our patented TKR Technology™ ensures reset is extremely short yet remains tactile and forceful enough that you will make follow-up shots with more accuracy, precision and confidence.

Adjustability

Our patented CLKR Technology™ features an easy-to-access adjustment screw that provides positive feedback enabling you to adjust your trigger's pull weight quickly with confidence.
Trust your Trigger
The departure from sliding friction also means that you are no longer forced to trade off performance with reliability and safety. TriggerTech only offers performance triggers in which you can place your trust.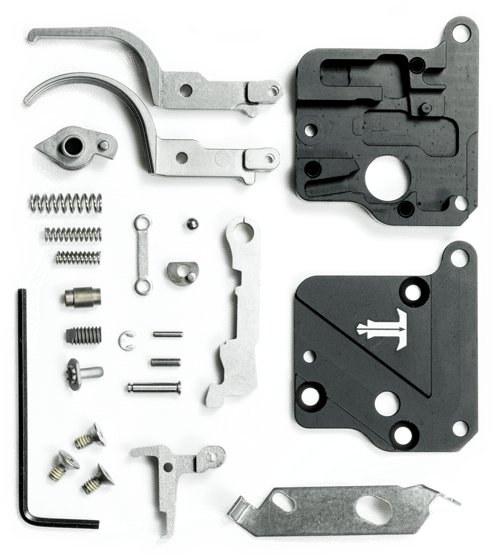 Safety

Our patented Frictionless Release Technology™ does not rely on coating, polishing, lubricating or reducing the key engagement surfaces to enhance performance. You can now have unparalleled trigger performance without compromising safety.

Rugged

Our triggers are designed to operate in the harshest environments imaginable - housings are designed to minimize contamination and our Frictionless Release Technology™ will continue to perform at an elite level in situations where friction-based triggers fail.

Service Life

Frictionless Release Technology™, along with hardened 440C stainless steel internal components ensure corrosion resistance and an extended service life. Your trigger pulls will be more consistent from shot to shot and after thousands of shots more than you ever thought possible.

Guarantee

Our triggers come with a satisfaction guarantee and warranty for the product's lifetime enabling you to buy with confidence.
Partnerships & OEM Trigger Supply

TriggerTech is trusted as a preferred trigger supplier by a growing number of leading original equipment manufactures. Whether you are looking for one of our production triggers or something totally custom we have got you covered. Our Frictionless Release Technology™ makes more things possible in terms of what specifications can be engineered into a trigger.

Surgeon and McMillian

Surgeon and McMillian are industry leaders when it comes to producing precision rifles - they offer superior engineering, best-of-breed design, precision craftsmanship, and superior ergonomics. Their customers include tactical professionals with high-stress responsibilities, serious hunters planning the hunt of a lifetime and elite competitive shooters who shoot with the best in the world. That is why TriggerTech is pleased to be their first choice when it comes to which trigger goes in their guns.

Bergara

Bergara Rifles produces a full line of precision rifles, engineered and built to showcase the performance capabilities of their world-class barrels. This partnership makes use of TriggerTech's patented Frictionless Release Technology to increase performance and accuracy for the end user by eliminating creep and heavy pull weights. The goal of this partnership is to create a world class experience for every user of a Bergara Rifle. TriggerTech's patented Frictionless Release Technology™ allows you to squeeze off shots with zero-creep. FRT™ increases your accuracy by eliminating long and heavy pull-weights. Even in the most rugged conditions it maintains its premium performance, delivering greater precision and safety with every shot.

Christensen Arms

Christensen Arms developed the first carbon fiber barrel for a rifle over 20 years ago and they remain an industry leader anywhere composite technologies and firearms mix. TriggerTech is pleased to be the trigger provider for their Modern Sporting Rifles and Bolt Action Guns. Christensen was also looking to stand out from the competition and we enjoyed working with them to develop the Christensen Arms VTAC Trigger by TriggerTech.
What people are saying
"Simply, I think it is the finest crossbow trigger I have ever pulled"
"... solves a problem that has always troubled gun makers… these triggers should be on every rifle"
"The AR trigger is so damn crisp. Out of the box it broke cleanly every time at a hair over 3lbs. Took less than ten minutes to install."
"By far the best crossbow trigger I have used."
"No creep, instant wall that breaks crisp and clean every single time! - Impressive!"
"An absolute DELIGHT to shoot. Crisp, precise, predictable, smooth.... anyone who has shot them knows what I mean.
Subscribe to our Newsletter
Stay in the loop for new product releases, sales and more!